It is a film made by GoAnimate Pictures in 1994.
Summary:
After Pterano had money, he decided to revive other extinct creatures and turn them into a zoo which turns out to be a bad idea.
Characters:
Pterano
Littlefoot
Mama Flyer
Petrie
Ducky
Ruby
and more!
Dinosaurs:
Velicoraptor
Raptor
Troodon
Oviraptors
Pteradactylus
Pteranodon
T-Rex
and more
Statuses:
Main characters:
| Characters: | Status: |
| --- | --- |
| Pterano | Alive |
| Littlefoot | Deceased |
| Mama Flyer | Alive |
More to be added
Galley: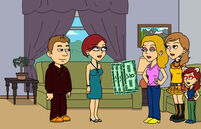 Sequels:
Trivia:
This is the first film to use GoAnimate Text-To-Speech, Ivona and Voiceforge voices.
This is the first The Land Before Time Fanfiction film to be made by GoAnimate Pictures.
This is the first time Tria doesn't speak or live.
These events happened after The Plague.